Do you have your kitchen in the North-East zone of your house?
If yes, then you must be having these questions and doubts in your mind-
1-Is a North-East kitchen good as per vastu?
2-If not, then what are the side effects of a North-East kitchen vastu?
3-And what are the easy and simple remedies to rectify the defects of a North-East kitchen?
You will get answer to all your questions in this article.
This article is going to show you how you can use the vaastu shastra principles for a North-East Kitchen.
Things You Are Going To Learn Further:
Traditionally, Vastu Shastra talks about eight directions; four cardinal directions [North, East, South, and West] and four sub-directions [North-East, South-East, South-West, and North-West] at an angle of 45° from each of the cardinal directions.
But, in reality there are total 16 vastu zones, not the 8 directions.
After dividing a circle of 360° around a center, you will get 16 vastu zones each covering 22.5°.
Even the North-East is divided into three equal parts of 22.5°. These three parts are as follows-
North-North-East- [11°-34°]
East-North-East- [56°-79°]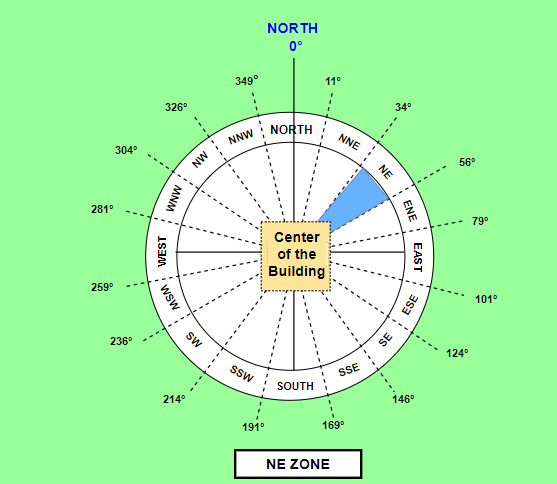 Each of these zones have different attributes and qualities. So, we cannot consider them as one zone like many traditional vastu consultants do.
So, technically the North-East zone covers the area from 34°-56° in a house as per vastu.
North-East zone is one of the most important and sensitive zones of the house. The North-East zone governs mind clarity, new ideas and wisdom.
The North-East zone is associated with the Water Element or Jal Tatva.
This NE zone is also linked to the planet Jupiter. And Jupiter symbolizes knowledge, spirituality, health and long life.
This is the zone where auspicious energy enters into your home. So, it is always good to have as much air and light flow into the northeast zone of the house.
Kitchen is related with activities such as cooking, baking which involve the heat and electrical appliances.
All these three things; cooking, heat and electrical appliances are associated with the Fire Element.
That is why the most appropriate and vastu friendly zone for the Kitchen is South-East. The zone of southeast is related to the Fire Element.
North-East is the zone of the

Water element

.
Kitchen and the activities of kitchen are related to the

Fire Element.
When the fire element or its activities are done in the zone of water element, it causes imbalance. Fire and water are incompatible with each other. Because, water is a feminine energy and fire is a masculine energy.
Fire element will burn the positive energies of the North-East zone and the negative energy will take its place.
This inauspicious energy then flows throughout a house and leads to several problems for the occupants.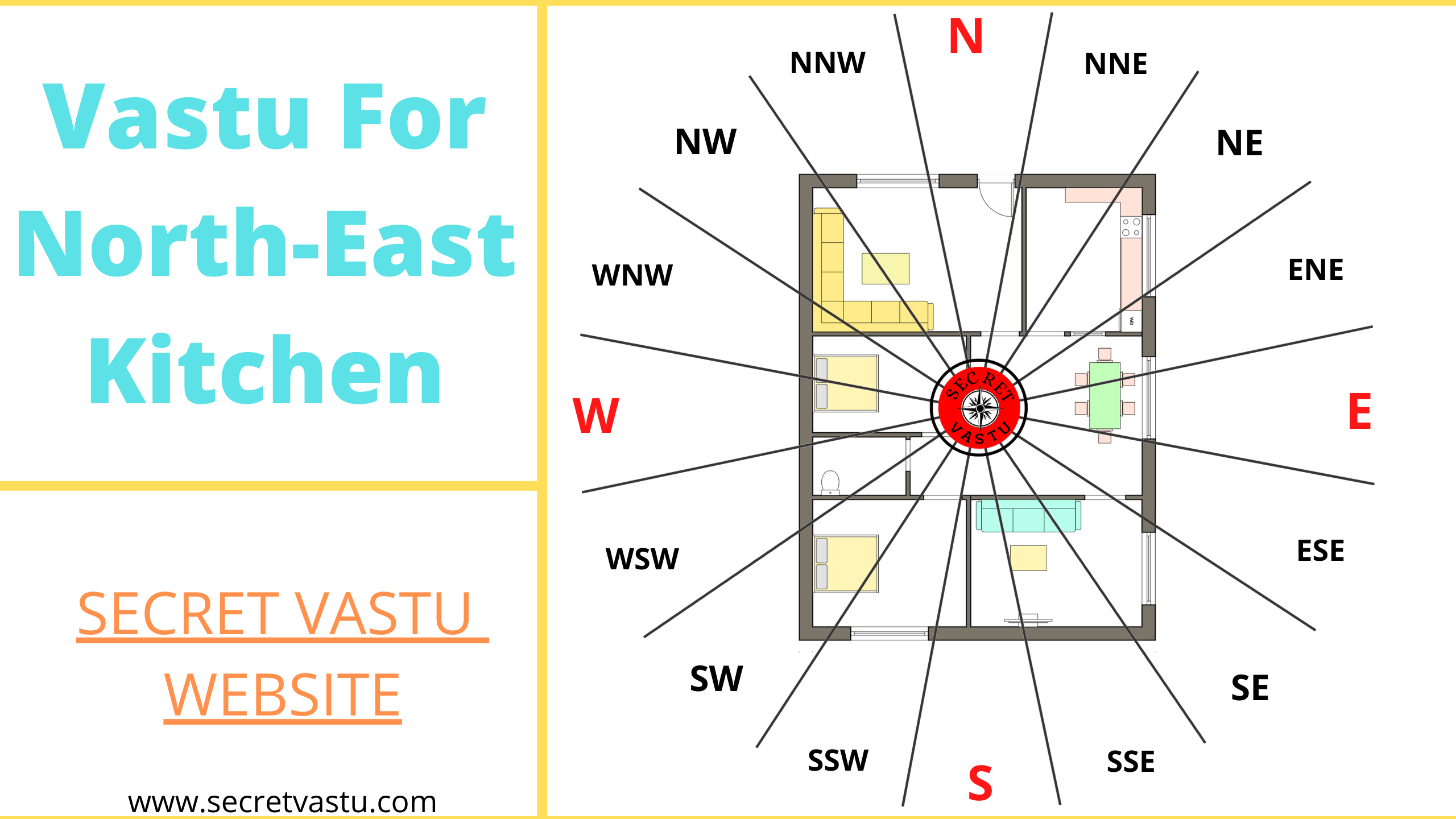 North-East is a very sensitive and important zone according to vastu shastra. Any major vastu defect may cause these problems:
1-A person may face ailments related to the brain.
2-A person residing in such house may lose clarity of mind.
3-Women of the house may have to face some health issues.
4-Marriage related problems with girl child
5-Kitchen in the northeast direction causes financial problems for the residents as well.
Before applying any kind of vastu

remedy you need to understand that, Kitchen is not the entire room as per vastu.
As a matter of fact, it is only the location or position of the heating objects of the kitchen [like- gas stove, microwave oven etc.] which need to be considered when analysing or rectifying the North-East kitchen.
So, below is a list of simple and easy remedies for the vastu dosh of North-East kitchen-
Firstly, shift the gas stove or microwave oven from North-East [34°-56°] to East-North-East [56°-79°] zone of your house. Then the remedy should be done to neutralize the impact of Fire element.

[No need to demolish the entire kitchen]
The kitchen slab or kitchen countertop should be in neutral colors like- light cream, off-white etc. [Do not use red, pink or orange color for the kitchen counter]
The colors of the walls of kitchen should also be in neutral colors. Dark shades of any color should be avoided in this part of the house.
Even though, it may be a bit difficult for some people, but it is important to keep the kitchen clean and clutter-free as much as possible.
There should be enough ventilation and windows in the kitchen. [Keep the gas stove away from the window]
Having a kitchen in the northeast not only imbalances the water element zones, but it also weakens the zones of fire element, especially the south-east zone. So, you can keep some fire related objects or use pink color objects in the south-east zone of your house.
You can also shift the kitchen virtually from North-East to South-East zone with the help of pyramid.
These remedies will help you eliminate or reduce the ill effect of NE kitchen. You should also be aware that there are some other very important vastu shastra principles for the kitchen.
Q. Can North-East Kitchen vastu dosh be rectified?
Ans. Yes, it can be rectified. We have suggested some simple and easy remedies for getting positive results. But, if you want precise and more powerful vastu remedies, then you should consult a vastu expert.
Q. Does a North-East kitchen have more negative effects on women?
Ans. It does have some ill effects on the health of women. But, you can somewhat control these ill effects if you apply proper remedies and follow a very balanced lifestyle.
Q. Is North-West a better option for kitchen then North-East?
Ans. There is no doubt that the North-West is a very good zone for kitchen.
Any family having their kitchen in North-East may face some tough challenges, but there is always a solution for every problem.
Apply these simple vastu tips and remedies or even consult a vastu expert if your kitchen is in North-East zone. And make sure that other vastu zones of your house are following the vastu rules.
Related Articles To Read:
If you like the article, then share it with others for their benefit. Thank You!!!